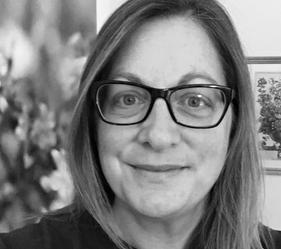 Christina Sheppard
Root Cause Biomagnetic Therapy
I began studying Biomagnetic Therapy in the winter of 2018, and started my education with Joan Randall in the Lyme Magnetic Protocol the following Spring. I'm moving through this three-year course of study with a small group of colleagues under Joan's guidance.
I decided to study Biomagnetic Therapy because of the profound impact it had on my daughter. At 15, she developed severe anxiety to the point where she was unable to attend school, as she was having three to four panic attacks a day. Out of nowhere, seemingly triggered by nothing, her extremities would start to numb, her chest would tighten up, heart started racing, she'd be dizzy and nauseous. Sometimes it went on for 30 minutes or more. We noticed that it was the physical symptoms that were causing her psychological anxiety, rather than the other way around. She felt like her body was out of her control, it was debilitating, exhausting and frightening.
We had blood work done, but nothing came up. Her PCP suggested Zoloft and gave us a prescription for a benzo to take as-needed. I couldn't shake the feeling that her nervous system was under attack, that she was fighting something. Blood work isn't infallible, especially when looking for pathogens. I really wanted to get to the root cause and try to bring it under control.
I'm forever grateful we stumbled upon Biomagnetic Therapy. After one session using the Lyme Magnetic Protocol she was 80% better and back in school within a couple of days. She stopped having daily panic attacks after her second treatment. As she continued her treatments, it was a wonderful surprise when her chronic acne cleared up, her sleep improved, and the runny nose she'd had since the age of two disappeared. After seeing what it was doing for her, I started my own course of treatment and have had some pretty remarkable results.
I love working with each client to get at the root causes of their health challenges, it's always a fascinating discovery process. I look forward to working with you!
Christine's office is located in Greenfield, MA.
Website: www.rootcausebmt.com
Phone: 413-512-1327
Email: [email protected]
Location
Lyme Disease Resource Center, Inc.
243 King St. Suite 248
Northampton, MA 01060